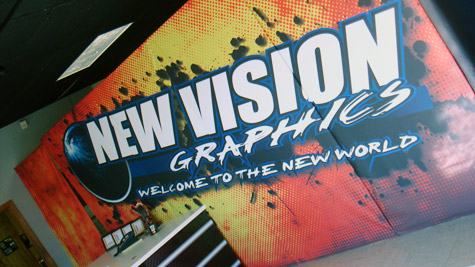 From the beginning in 1994, New Vision has been committed to leading the industry in the development and production of top quality products that are able to communicate ideas aggressively and accurately.
The experience behind New Vision Graphics, Inc. spans several decades. Kirk Shaw, company president, is the son of nationally known car builder, Larry Shaw, who built NASCAR driver Mark Martin's first race car. Kirk has been a part of all types of racing events, including driving in several divisions on dirt and asphalt.
New Vision began providing all types of decals and graphics for the racing industry. As customers requested apparel, signs, banners, brochures, and business cards printed with their logos, thus expanding to service the "business and commercial" world. All the experience he has compiled helps provide you with the most dynamic products and services available.
In 1997 the business moved into a 5,000 square foot facility.
1998 - New Vision offers screen printed racing shirts and also for business and organizations as well.
As state of the art digital and screen printing equipment was added for better service new customers, the existing building wasnt large enough. So New Vision moved into an 15,000 square foot facility the end of 2004.
2004 - New Vision produced the first race wrap to dirt racing.
Today, New Vision Graphics, Inc. is a leading manufacturer in digital printing, screen printing, and inventive solutions to customer needs in both the racing and commercial markets. New Vision has added staff and equipment to meet the needs of the ever-growing product demand.
"We think that the best way to prepare our customers to meet those challenges is to continue to develop quality products to enable them to achieve and sustain the highest level of customer service at the lowest cost. If you own New Vision products, you already know that. If you don't, talk to someone who does. We think you'll find a comfort level with us you just can't find anywhere else."
– Kirk Shaw, President